A traveler went to Chartres in France to see the great church that was being built there. He arrived at the site just as the workmen were leaving for home. He asked a man, covered with dust, what he did there. The man replied that he was a stonemason. Another man, when asked, said he was a glassblower, who made beautiful colored glass. Another said he was a blacksmith who pounded iron.
Wandering inside the unfinished edifice, the traveler came upon an older woman, armed with a broom, sweeping up the stone chips, wood shavings and glass shards from the day's work. "What are you doing?" he asked. The woman leaned on her broom, looked toward the high arches and replied with face radiant, "Me? I'm building a cathedral for the glory of God."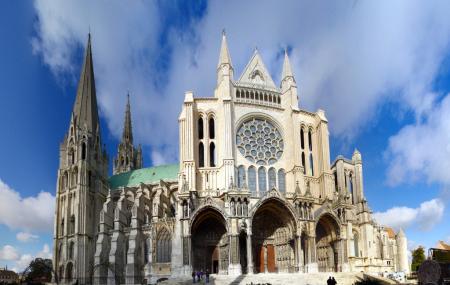 This week I helped build the playground at my local church, Desert Streams. So far I've poured concrete, set fence posts, cut beams, and dug holes for about 9 hours--I'm like one of the craftsmen at Chartres but also like the older woman in the story. I am building the Church of God.
Yesterday, Uncle Neal from Desert Streams didn't carry any concrete or set any playground fence posts, but he was also building the Church. You see, he invited people from church and his neighbors to a Hawaiian luau at his house for lunch. The Desert Streams people came to create relationships and help with the event, and Neal has in mind that some of the neighbors and the brothers and sisters from church who came may together form an "Exploring Faith" group to meet at his place.
Can Neal lean on his broom, look to heaven, and see with satisfaction that he is building the church for the worship of God? Absolutely. Can I? Yes, 100%. But confession time: maintaining the house of worship can be an EXCUSE for me to avoid the messy people part, which is the eternal church we are called to build. It is far easier for me to carry concrete in a wheelbarrow than it is for me to minister Christ to the people I encounter, sharing the Gospel and getting into faith conversations.
Katie drove from Redmond to lead worship on Thursday night. The sacrifice of time that she and Kerry and the other leaders of corporate worship is not unlike the devotion of the glassmaker or ironsmith working on the cathedral. They are investing into the church, weekly building the very Church of God. When asked what they are doing, it's no exaggeration to have them gesture to the tools of their work and say "Me? I'm building the church for the glory of God."